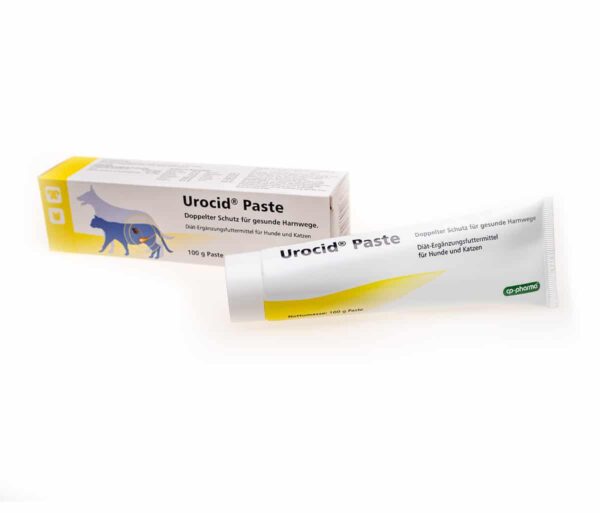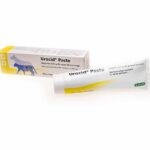 Urocid® pasta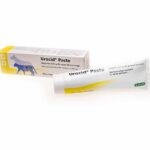 €17.63
Nutritional supplement for dogs and cats – against urinary stones
Description
Additional information
Reviews (0)
Description
It acidifies the urine and thus helps reduce the risk of urinary stones (struvites).
Suitable for cats with lower urinary tract inflammation syndrome (FLUTD) and in dogs prone to the formation of urinary stones (struvites).
The methionine contained in Urocid ® paste dissolves struvite urinary stones and prevents their formation by lowering the pH of the urine, cranberry extract acts against urinary tract infections.
The product can be administered in acute renal insufficiency after consultation with a veterinarian.
Ingredients
Malt syrup, glycerin, cranberry extract 25,000 mg / kg, hydrolyzed vegetable proteins (soy, corn), rapeseed oil, sodium chloride.
Additives in 1 kg: DL-methionine 80.000 mg, taurine 240 mg, vit. E 36 IE
Content: protein 5.3%, fat 0.7%, fiber 0.4%, ash 1.2%, moisture 49%, Ca 0.01%, P 0.21%, Na 0.2%, Mg 0 , 03%, K 0.15%, Cl 0.08%, S 1.71%, Taurine 0.03%
Dosage
Recommended dosage: Cats ½-1 teaspoon twice a day, dogs 1-3 teaspoons twice a day with plenty of drinking water.
Administration: mixed into the feed or after feeding directly into the mouth. Do not administer on an empty stomach.
To dissolve struvites, give 6-12 weeks, to prevent their recurrence 6 months.
Always consult your veterinarian when administering Urocid paste.
Storage
At room temperature
Keep out of reach of children, for animals only.
Packaging
100 g
Additional information
| | |
| --- | --- |
| Weight | 0.125 kg |
| Dimensions | 14 × 2 × 2 cm |
| Package size | 125 ml |
| Manufacturer | CP Pharma |